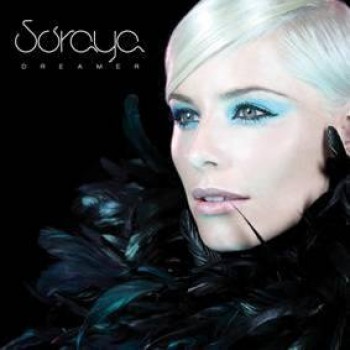 1.- Dreamer
la frase:
I'm burnin' up with love
abre el cd la cancion mas fuerte y yo creo que la mejor, ese inicio como que te mete a lo que sera este disco y los gritos de soraya suenan geniales, perdiendote en ese paraiso electrico que es esta cancion
10/10
2.- Faillin me (Runaway)
la frase:
your heart is beating, to a fast tempo.
pues no es tan Buena, Talvez la pasada nos deja con energia y esta es mas calmadona, el coro es bueno pero no tan fuerte como la anterior, aunque llega a tener un pequeño trozo instrumental exquisito.
8/10
3.- Give You Up
la frase:
don´t want my heart to be broken
mmm, esta cancion tiene unos beats buenos pero no se, me suena muy a Black Eyes Peas, ella cantando el coro y algunas otras frases y un tipo rapenado algo, puede ser aburrida.
7.5/10
4.- Ticking All The Boxes
la frase:
Carried away on a cloud in a sea of emotions
Bien, puede sonar muy comercial, pero es fenomenal, empieza con beats repetidos, pero sonando muy bien y gana muchisima fuerza en el coro, otra de las mejores.
9/10
5.- I Got You
la frase:
Come on invite me, I'm gonna make you sweat
wow, por el nombre me esperaba una baladita tonta, pero wow, aunque inicie algo balada se vuelve energetica, su voz se acomoda genial, aunque la letra es muy vanal, el ritmo es muy nocturno, buen cancion.
9/10
6.- You Got The Music
la frase:
You come today, I'll show you to break the rules
mmm, los beats son totalmente pegajosos y muy buenos y su voz es genial, pero me suena muy a rupaul (never go home again), pero con menos fuerza, muy como de superacion personal oa glo asi, good thoug, el piano es lo mejor.
8/10
7.- Electric Girl
la frase:
I wanna touch you but it hurts
esta cancion es totalmente musica y ya, la voz del tipo me molesta y ademas la cancion se vuelve cansada y larga, abara quienes digan que es la mejor, a mi parecer es de las peores, solo apta para pastilleros.
6/10
8.- Twilight
la frase:
I tasted your skin
es rara, al principio asi parece, pero gana fuerza, se deja ver como vulnerable, relatando por lo que me parece algo de vampiros, y la transformacion, es genial beats claros y un coro poderoso pero fragil.
9/10
9.-Live Your Dreams
la frase:
Who do you follow when you're lost in your dreams
El primer single del album, la musica es exquisita y tambien todas las frases pero para mi el coro la hace demasiado comercial, haciendola algo comun, es buena cancion pero no de las mejores.
8/10
10.- In My Blood
la frase:
drop your glasses, shake your asses
por lo unico que vale la pena es la cancion es por el coro, pero no tanto el beat y la musica son buenos pero la letra fue hecha como de relleno, buena para lado b
7.8/10
11.- Close to Me
la frase:
When you lay on on my bed My whole body lose control
Suena muy a 90´s, Podria ser un remix de alguna cancion pasada y ni nos dariamos cuenta, los beats son muy buenos y la musica es buena, talvez dura demasiado pero es buena.
8.8/10